Healthy activities club praised by parents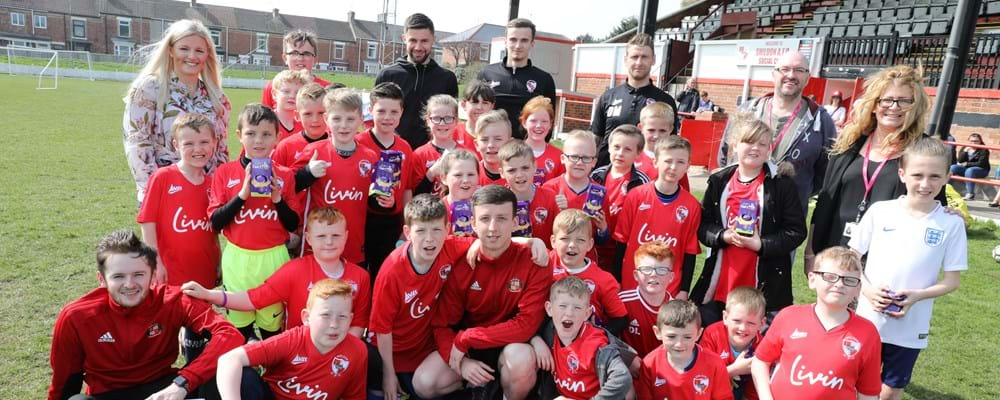 Shildon's first school holiday activities club hosted by a new football partnership proves huge hit with children and parents.
Over 30 children enjoyed four fun packed days with Shildon AFC players, and Sunderland AFC's Foundation of Light coaches at a free club, made possible with our funding.
Healthy breakfasts kicked off each day, donated by Greggs bakery and Shildon Alive, followed by active group games and activities.  Lunches were provided by Salvos restaurant, Shildon who hosted a special end of week treat at their restaurant with an Easter egg raffle and goody bags, as well as healthy pizza and pasta.  
Alan Boddy, executive director of housing and operations at Livin said "we could not have wished for anything more. Feedback from parents has been over and above what we had hoped for and look forward to planning the next partnership event for the community"
Prizes were given to three lucky children at an end of week presentation for Best Behaviour, Best Attitude and All Round Positive Contributor of the week. Jamie Lee Hewitt was the winner of a 2019/20 Shildon season ticket and Joseph Brunson and Luke Thompson both took away a family ticket to the Durham Challenge Cup final (including transport) on Friday 3 May.
Michael Colclough, FOL head of operations said: "this was a fantastic example of what we can achieve when we all pull together for a common goal, with a lot of happy and active youngsters having fun. The youngsters were a pleasure to work with and we had a great time, I hope that we can make this a regular for the holidays"
Photographs and feedback from the event are available to view on Facebook at Shildon AFC.
Pictured : Back row (left to right): volunteer Rachel Boddy, Shildon AFC Captain Ben Trotter, Brad Hird and Manager Daniel Moore, Livin's Malcolm Gray and Eileen Cotterill; front row (left to right) Foundation of Light's Jordan Cottnam and Christian Taylor along with the  Easter activities club children.