Summer holiday activities boosted by new partnership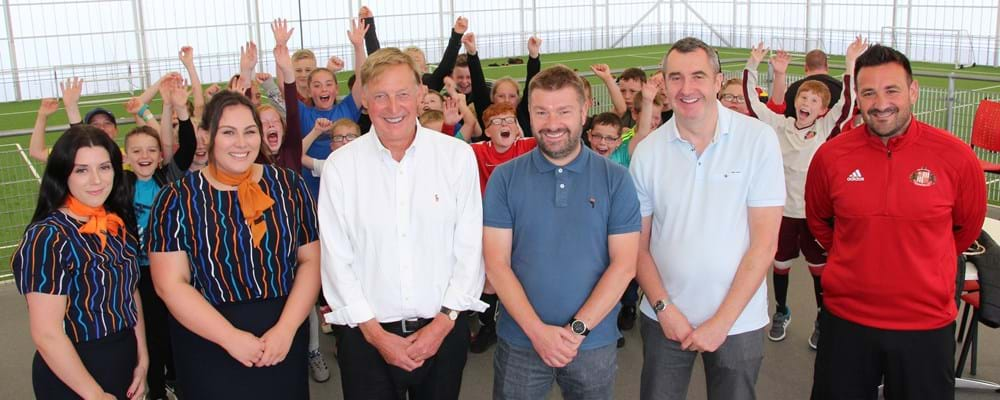 Popular school holiday activities club returns better than ever following a successful Easter.
Over 30 children again enjoyed four fun packed days with Shildon AFC players, and Sunderland AFC's Foundation of Light coaches at a free club, made possible with funding by our community investment fund.
Thanks to the new partnership between Hays and Shildon AFC children were able to travel to the Beacon of Light, the state-of-the-art sports and education facility home to the Foundation of Light.
 The youngsters enjoyed football training and small-sided games on the facility's rooftop 4G pitch, the only one of its kind in the region, and had a VIP tour with Foundation director Jamie Wright.
 Throughout the week healthy breakfasts kicked off each day, donated by Greggs bakery and Shildon Alive, followed by active group games and activities.  Lunches were generously provided by the popular Salvos restaurant located on main street, Shildon.
 Alan Boddy, executive director of housing and operations at Livin said "we are all very proud to be able to offer the improved free activities club in the heart of one of our communities. Through our growing partnership network we can offer opportunities such as these to our tenants and target areas.  Feedback from parents at Easter was overwhelmingly positive which was mirrored in the sell-out bookings for the summer club"
 Jamie Wright, director of programmes said: "It was great to welcome the youngsters to the Beacon to enjoy football on our rooftop pitch and a fantastic treat courtesy of Livin, Shildon FC and Hays Travel."
 "Whilst the Beacon of Light is a fantastic facility our strength is always in supporting our communities out in their neighbourhoods which we're able to do with the help of organisations like Livin."
John Hays, chief executive of Hays Travel said "We are delighted to support Shildon AFC in delivering projects such as these to the community. The holiday clubs are a great opportunity for the children to access new opportunities such as the visit to the Beacon"
Picture caption (left to right): representatives from Hays Travel alongside John Hays (Hays Travel chief executive), Alan Boddy (Livin executive director of housing and operations), David Dent (chairman of Shildon AFC), Jamie Wright (Foundation of Light director of programmes) and the summer holiday club participants.