Spennymoor students help replenish much needed stocks at local foodbanks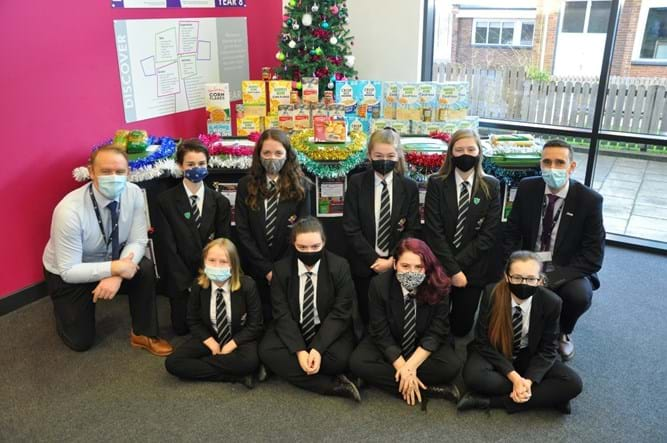 Students from Whitworth Park Academy, Spennymoor have been working hard to help replenish stocks in local food banks to cover the festive period.
A group of eight students worked 'virtually' with Livin to create a flyer to encourage food donations. They also came up with a competition to increase donations from their own 'house groups'.
Five new household wheelie bins provided by Durham County Council were filled with food generously donated by friends of Whitworth Park Academy totalling over 2,500 items.  Livin employees and partner Mears also joined in by raising £1,500 in donations which will be used by six local foodbanks to replenish much needed products.    
Alan Boddy, executive director of housing and operations said: "We are delighted to have been able to work with Whitworth Park Academy for a second year.  The current environment presented some challenges as we could not work with the students face-to-face, we managed to overcome this and together we have helped the students to really make a difference to local people."
David Stone, Whitworth Park headteacher said "I am extremely proud of both the effort and enthusiasm that the students involved in the project have demonstrated. This project has had an enormously positive impact on our young people.  As always, my thanks goes to Livin for the continued efforts in helping us support those most in need in our local community" 
Pictured: Scott Nicholson (Head of Year 10) and David Stone (Headteacher) with students of Whitworth Park Academy.
Back Row Left - Right Ben Gibbon, Misty Armitage, Olivia Bowman, Charlotte Kay-Worral
Front Row - Morgan Rogers, Jessica Newton, Scarlet Mumby, Leah Etherington